TIPTOE is shaking up the furniture sector by offering useful, practical and easy-to-assemble furniture.
All the objects are durable and well thought out, made 100% in Europe with noble and resistant materials to remain in your home for many years.
Tiptoe sustainable design furniture
Knowing the catastrophic consequences of plastic waste on the environment, TIPTOE's objective is to propose sustainable solutions.
They use recycled materials by integrating them into resistant objects.
All wood comes from sustainably managed European forests.
The tops are made of a fir core, veneered with natural oak, protected with a water-based varnish.
The feet and legs are made of steel, a resistant and recyclable material.
The packaging is made of 80% recycled paper.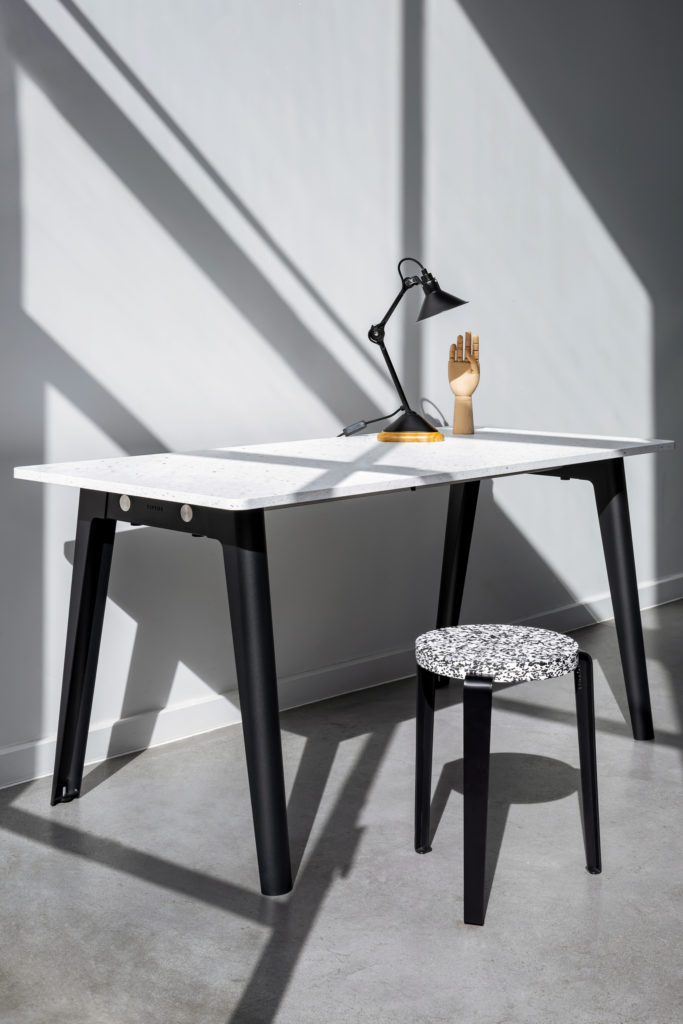 THE FOOT

This foot made of steel, a durable material, allows you to create tables, consoles, desks, benches… in a few moments.
It can be easily adapted to the TIPTOE trays or to your own trays thanks to its clamping screw.
They can be bought separately.
It is available in several heights: H75 cm for tables and desks, H43 cm for coffee table and bench, H90 cm or 110 cm for high table.
9 colours available: graphite black, cloud white, rosemary green, eucalyptus grey, mineral blue, ash pink, tomette red, sunflower yellow, patinated steel.

LE TABOURET LOU

If you are looking for a multi-functional object, the LOU is made for you, as a seat, a side table, useful, durable and designed in Europe with noble and robust materials.
The oak wood is available in different colours.
The legs are available in 9 colours.
LOU becomes a bar stool with legs in 2 large sizes, 66 or 76 cm.

DARE LOU MACCHIATO
Modern, original and durable stool.
Its seat is made of recycled plastic, made from cuttings used in garden centres.

DARE LOU VENEZIA
Leur assise est fabriqué à partir de yaourts recyclés et leurs pieds colorés en acier.

THE CHAIR SSD

It is beautiful, strong, durable and comfortable.
Ideal around a dining table or for a desk, it has been designed to be ergonomic with its inclination, height and curve, studied to meet the requirements of comfort.
Available in eco-certified wood, 3 wood colours and 4 leg colours. Soft version with the SSD Soft chair, available in 4 colours, wooden back. Recycled version with the SSD model, available in 4 colours.

TABLES, BENCHES & DESKS

Dining table for 4, 6 or 8 people. These are wooden tops available in various types of wood and sizes, to which the TIPTOE 75 cm legs fit.
Quick and easy to assemble!
Ideal for small spaces, you can create a wall-mounted dining table by fitting the BRACKET TIPTOE wall hooks.
Need a desk? Adapt the WAVE drawers, available in black or white with 120 x 60 cm top and 75 cm TIPTOE legs.

You need a bench in your hallway, nothing could be easier with the 120 x 30 cm oak top mounted on 43 cm TIPTOE legs.

The same top will become as big as a console with the 75 cm legs.

NEW MODERN - NEW-

In homage to the modern movement created in the 1920s.
It is pure, beautiful and functional furniture.
A reference to industrial design, TIPTOE has created this double leg that fits on the TIPTOE tops available in recycled plastic (up to 10 people) or eco-certified wood (up to 12 people).
The steel legs are available in 5 colours: graphite black, cloud white, rosemary green, eucalyptus grey and ash pink.
A round table top is now available in a diameter of 110 cm, ideal for 4 to 6 people.
The SSD chairs fit perfectly to sit around.

THE SHELVES

Quick and easy!
A shelf in the kitchen, a bookcase in the living room or a bedside table in the bedroom, TIPTOE shelves are ideal for your small storage spaces.
They consist of the BRACKET TIPTOE wall hooks available in 7 colours with different trays in wood or recycled plastic.

BRACKET :
Colours: graphite black, cloud white, rosemary green, eucalyptus grey, mineral blue, olive green and patinated steel.

TRAYS :
Size: from 45 to 120 cm long with a depth of 20 cm.
Wood types: solid wood, old wood, raw wood with bark.
Recycled plastic: Venezia White or Pacifico Blue.
Our other brands