A French reference in the world of wallpaper, the Parisian publisher Les Dominotiers, founded by Frank Halard, has been creating collections of made-to-measure panoramic decorations and wallpapers since 2014.
A guarantee of know-how and fine craftsmanship, Les Dominotiers infuses its collections with modernity, refinement and dreaminess for wall decorations.
This dynamic and contemporary vision is embodied by Zoé Crait, an interior architect and designer with degrees from the Boulle and Camondo schools, who heads the creative studio.
Collection Moris
Les Dominotiers takes you on a unique journey to the heart of this cultural and natural jewel, far from the common clichés that characterise this territory whose beauty goes far beyond idyllic white sand beaches.
Collection Magic Garden
Magic Garden est une collection de papiers peints imprimés de manière traditionnelle dessinée à la main par Shauna Dennison, ancienne designer de Cole and Son.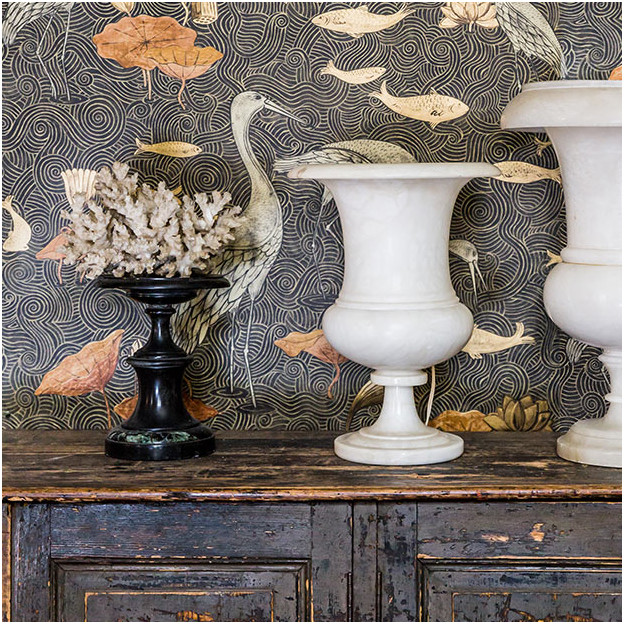 discover Les Dominotiers wallpapers
Décors panoramiques sur mesure

Discover Vanina Henry's selection of more than 200 panoramas created by the Dominotiers studio.
Exotic landscapes or more continental forests, geometric and floral motifs, contemporary designs…
A decoration adapted to all projects, and for the whole family.

Papiers peints

In collaboration with designer Shauna Dennison, Les Dominotiers has created the Magic Garden wallpaper collection.
An exquisite, elegant and poetic collection.
Wallpapers that invite dreams and imagination.

Soubassements trompe-l'oeil moulure et cannage

To complement their panoramas and wallpapers, they have produced a selection of trompe l'oeil wallpaper skirting boards featuring a Hausmannian moulding and a decorated wooden flute.
Perfect for adding character to your interior.



Our other brands