Les Couleurs® Le Corbusier
Les Couleurs® Le Corbusier

Paint Les Couleurs® Le Corbusier
63 ARCHITECTURAL COLOURS

Le Corbusier is considered the most important architect of the modern era. He shaped our ideas of modern architecture and modernity in general.
With his unparalleled experience as an architect, artist and designer, Le Corbusier developed the masterpiece of colour, Polychromie Architecturale.
The ideal tool for skilful architectural colour design.

A colour system consistent with 63 fascinating architectural colours created by Le Corbusier between 1931 and 1959.
Inspired by nature, all colours are naturally harmonious. Each colour can be impressively combined with any other colour.
All colours are eminently architectural and have the highest quality in terms of meaning and richness of colour.
Each colour group and shade has its own relevance and embodies specific spatial and human effects.
Le Corbusier's Polychromie Architecturale is a masterpiece.
It features 63 fascinating shades that Le Corbusier created in two colour collections – in 1931 and 1959.
The 1931 collection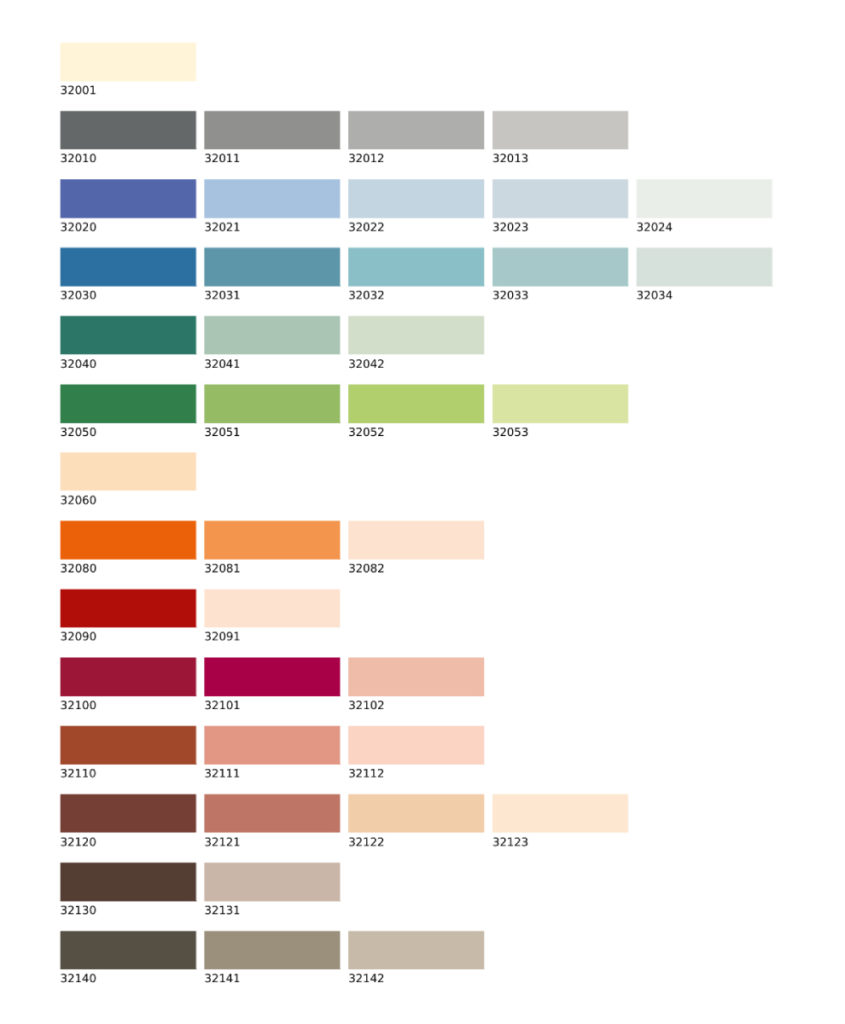 The first collection of 1931 consists of 43 shades in 14 series.
The series are composed of solid colours and cleverly graduated highlights.
The original shade coding always begins with "32xxx"; the series are identified by the last three digits:
For example, the five cerulean shades have the final digits "030 to 034" (the "030 series").
The 1959 collection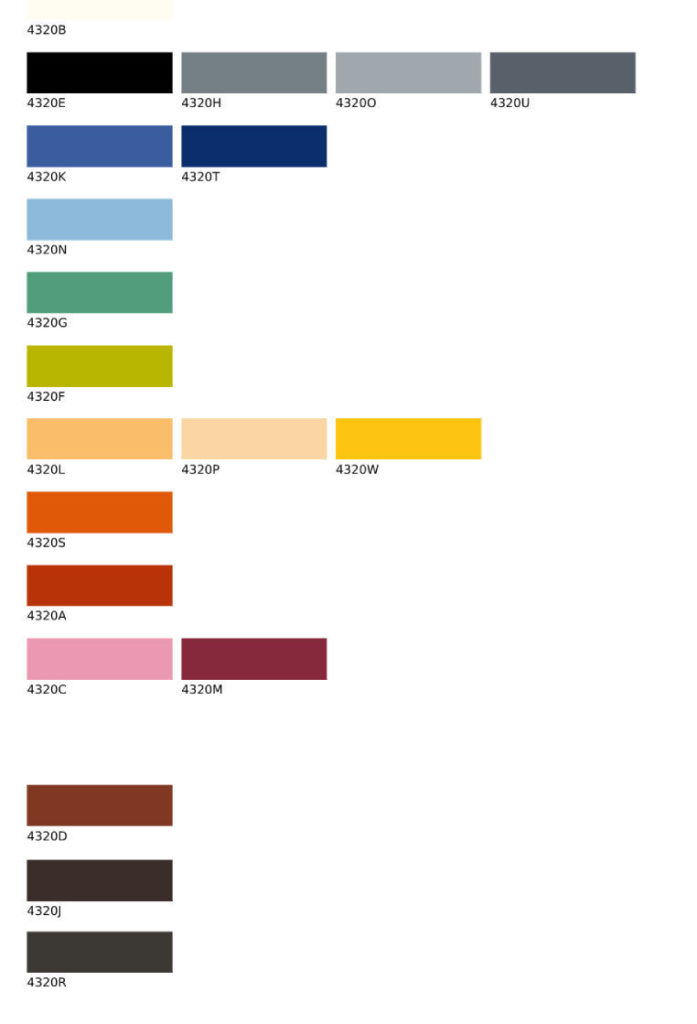 The second collection from 1959 completes the Architectural Polychromy with 20 additional, stronger and more dynamic colours.
The colours of the second collection are called "4320x" – from 4320A to 4320W.
Le Corbusier formulated the following three guiding principles for the effects of colour:
Colour modifies space
Colour allows objects to be classified
Colour has a physiological effect on us and reacts strongly to our sensitivity.
The colour strip of Les Couleurs Suisse shows the sequence of the 63 colours according to the original coding – from left to right, first the 43 colours of the first collection, then the 20 colours of the second collection.
VANINA HENRY PRESENTS "LES COULEURS® LE CORBUSIER -KEIM FARBEN"

Vanina Henry, who is passionate about colour and paint, did not hesitate to present and advise the 63 colours in her showroom.
poLyChro® – makes colour an experience
Le Corbusier's 63 masterly shades translated into colour formulas of unique quality – that's what poLyChro® is all about.
Le Corbusier Colours® made by KEIM. poLyChro® is the perfect symbiosis of a velvety matt surface and fascinating colour depth.
Colours that are full of life, extremely intense and yet discreetly elegant.
poLyChro® – the colours of Le Corbusier…
– fascinate with their velvety matt surface.
– inspire with unimaginable colour depth
– create a timeless elegance
– are handcrafted with the purest colour pigments
– and are also environmentally friendly, breathable and healthy to live with.
Download the brochure brochure Keim-polychro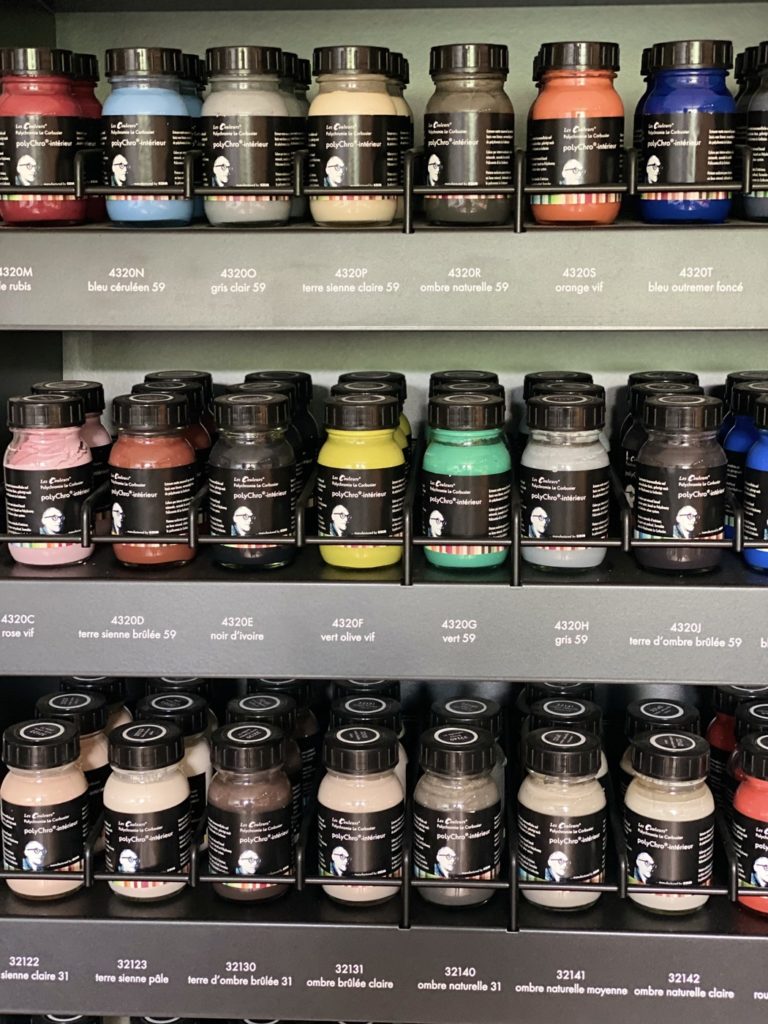 A short biography on Le Corbusier

Le Corbusier

06.10.1887: Charles-Édouard Jeanneret, born in La Chaux-de-Fonds (CH).

Until 1905 metal engraver, Academy of Arts.

Until 1916 extensive study trips to Italy, France, Germany, Austria, Hungary;
Orient: Czech Republic, Serbia, Romania, Bulgaria, Turkey, Greece.

Longer working stays in Vienna, Paris, Berlin and Munich.

"Atélier d'art réunies", own architecture office. Architecture, interior design, furniture design.

Starts "dom-ino" (industrial series production).

1917: Moves to Paris; has his own architectural studio. Until 1918

Artist and author.

1920 he calls himself "Le Corbusier".
Works throughout Europe, Africa and America. Presents the famous LC1-LC7 furniture.

1927: The five points of a new architecture.
1931: Presents the first colour collection with 43 shades.
1945: "Modulor" – Concludes the research on proportions that he had been conducting for 20 years.
Until 1949
Creates buildings in Argentina, India, Iraq, Japan and the United States.

1959 presents the second colour collection with 20 shades. Finalizes the Architectural Polychromy.

24.08.1965: dies in Roquebrune-Cap-Martin (F).
Our other brands