To decorate, decorator, decoration, means to make beautiful, to enhance, that which is seen and felt according to a theme, a style, ideas, a life story.

It is a concept, this is my feeling of interior decoration. It is then necessary to draw from an extraordinary choice of products, materials and colours to combine them in the best way for the client.
You want to decorate your home but you don't have the time, you don't know where to start, you are not sure of your choices or you don't know what products to use, my team and I are here to help you.
Every time I start a project, I have to understand who the client is, what their needs are and what their story is.
Together we will build on you and your environment to find solutions based on what you have and what you want.
An interior designer needs to get into the client's home and see the project.
We can bring in new perspectives that the clients hadn't thought of.
Thanks to her long experience in the field, Vanina Henry has been associated for years with trusted partners, manufacturers and brands with whom she wishes to offer clients quality and exclusive products for a unique result, the one that suits them.
Your project may be that of a villa to be decorated, a new bedroom, new seating in your living room, exceptional lighting or solutions to an interior design problem, whatever it may be, we will accompany you.
In the showroom we can discover together the products I can advise you, most of which you can find on the brand page.
---
THE CHOICE OF MATERIALS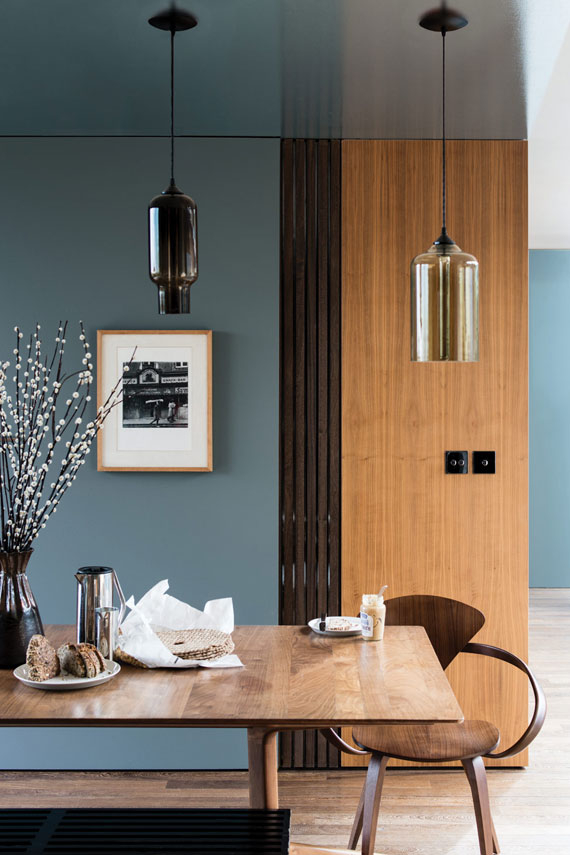 Here, the choice of material, wood, is ultra present and dominant.
We had to find a colour for the walls that would balance this dominance. This blue-grey colour is perfect to give the illusion.
The ceiling painted in a glossy colour enlarges the space to place pretty glass light fittings accentuating the effect of brilliance.
---
THE CHOICE OF COLOURS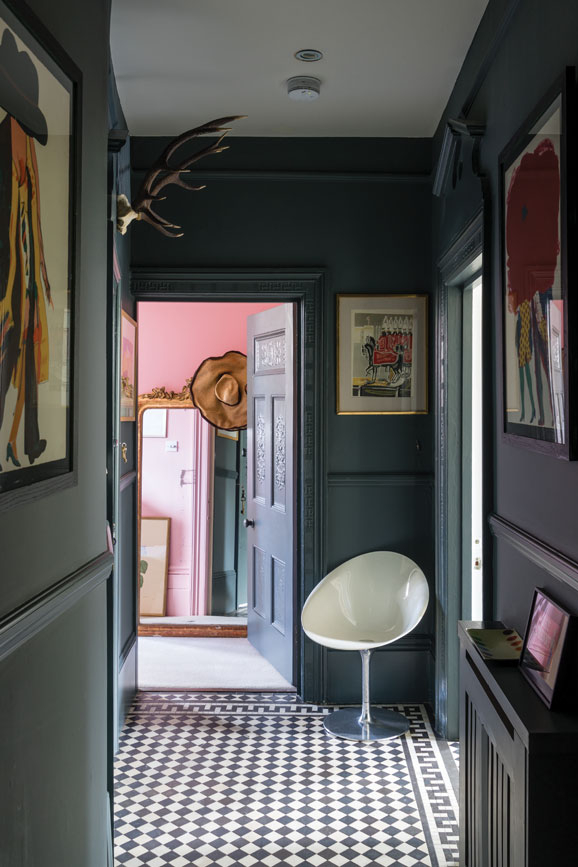 For this entrance, the decoration is highlighted with strong colours and striking patterns with the floor tiles.
The glossy white seat is deliberately placed to bring contrast and lighten the space visually.
The dominant colour choice continues with the intense pink found in the other room.
The effect is spectacular and it is a conscious decision.
---
THE CHOISE OF WALL COVERING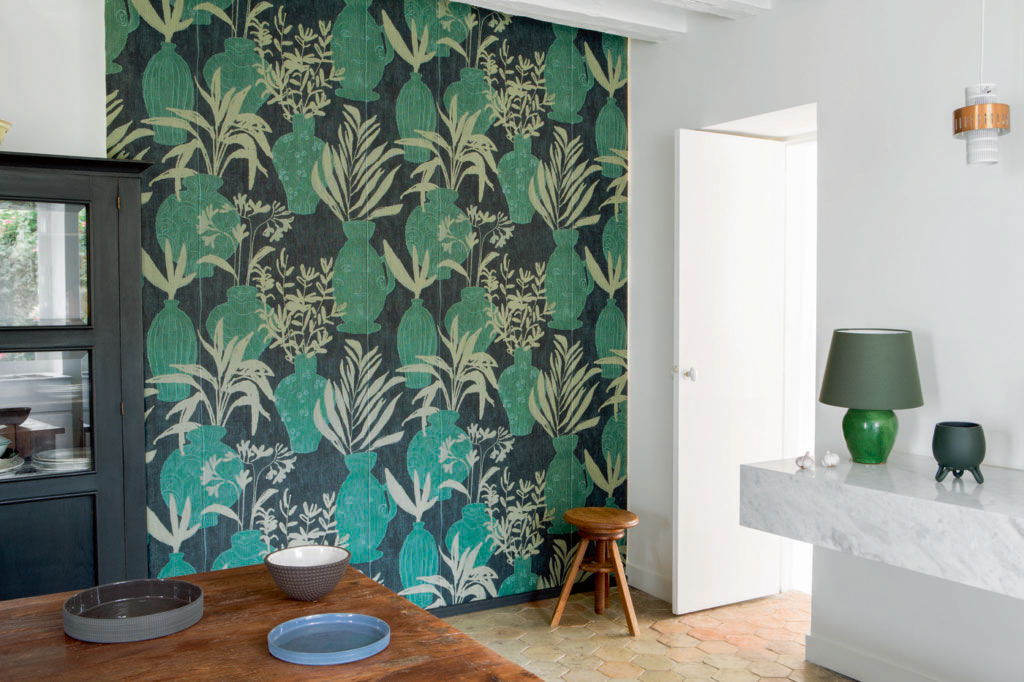 Bring in a wallpaper that you have chosen because it speaks to you, tells a story or provokes an effect that will change the scenario of the room.
Here green is dominant and choosing this little green lamp accompanies the colour choice and gives confidence to the choice of paper.
---
THE CHOICE OF ACCESSORIES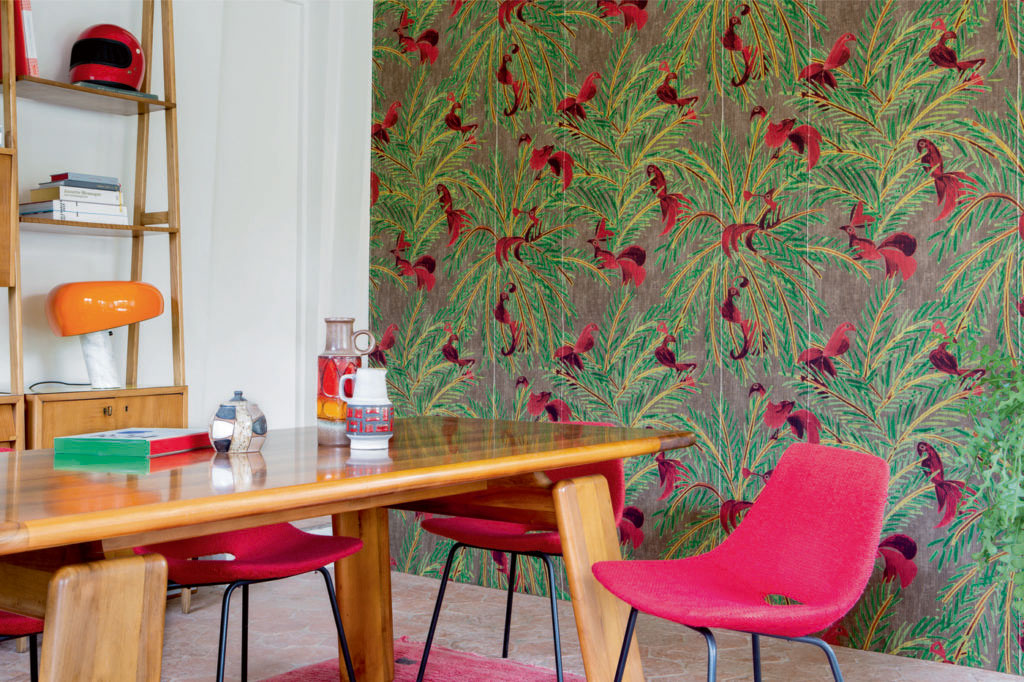 In this case, the red of the chairs is the starting point.
We had to find the right wallpaper and this one (Volver ELITIS collection) with red touches fits perfectly.
Daring to use a nice wallpaper will completely decorate a room that may seem completely banal at first.
---
DISCOVER OUR INTERIOR DESIGN PRODUCTS
The interior design project will be followed by your own individual project, i.e. the step-by-step description of how it will be realised.